99%

of recent customers
recommend this business
PremierGarage and Tailored Living of the Northwest

4222 25th Ave. NE
Salem, OR 97301
Phone: (888) 390-0522

Jim Friesen started PremierGarage of Portland/Salem in 2006. Since then, PremierGarage has merged with Tailored Living and grown to service most of Oregon and Southwest Washington, including over a thousand homes, businesses and building projects. Working directly with customers and builders alike, they pride themselves in offering the highest quality garage cabinets and concrete floor coatings.
The cabinets are finely crafted from thermo-fused melamine with computer-controlled precision and can withstand heavy loads and temperature extremes. The floor coating is a hybrid-polmer based flooring system created by Sika, the global leader of Industrial floor coatings, and cures two times harder than the traditional epoxy products. In addition to garage cabinets, they now offer the highest quality of closet, pantry, home office and Murphy bed systems to become the complete provider of all your home organization needs.
As your local organizational specialists, Tailored Living featuring PremierGarage is dedicated to bringing the Northwest areas outstanding service and personalized organization solutions to fit your home and lifestyle.
Learn more at their web site
, or call (888) 390-0522 free in-home consultation.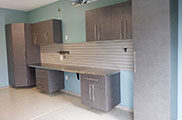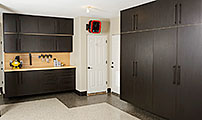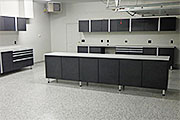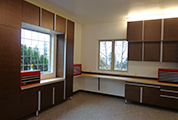 Customer Reviews
We like the product. We like the company. We like the way we were treated from start to finish. A-1 in my book. Could not be more satisfied with the new products in the garage. Looks like a new garage. Wow!
Verified Customer Tom

Very impressed from start to finish with this company! I don't usually bother with doing a review, but I am so highly satisfied with everything that I felt I needed to let potential customers know not to hesitate in calling Jim. Everyone at Premier Garage is great!
Verified 10/7/18 Raynette

I had my garage floor and a set of cabinets made by another provider of Tailored Living several years ago. However, I found that person was no longer in business when I wanted an additional cabinet made for the garage. Considered myself very fortunate to find Premiere Garage/Tailored Living to assist with this project! They could not have been more professional, helpful, or the project done any better!! And they even fixed a piece of my garage floor that had broken down as a favor - and they did not install it originally! Incredible work, work ethic, and pride in the end product!! Could not be more pleased! They have a customer for life!!!
Verified 9/29/18 Paula J (Vancouver, WA)

Professional and extremely clean and beautiful installation
Verified 9/26/18 Steven (Happy Valley, OR)

I used Tailored Living NW to renovate my 2 car garage. The entire team was thorough, professional, and approachable. The finished product is beyond my expectations. I will be having them back to create a walk in closet for me this fall.
Verified 8/16/18 Janeel (West Linn, OR)

If you are looking for a company to give you the garage of your dreams look no further! I am 110% satisfied. LOVE my garage!
Verified 7/30/18 (Springfield, Oregon)

Very impressed with the quality of product, installation team and the entire look of our garage. It's beautiful and feels much like an extension of the house. We love it and so do our neighbors and former owner! Great job!!
Verified 7/30/18 Larry (Lake Oswego, OR)

This is our second garage floor installed by PremierGarage and we are super happy with both floors. Beautiful job, on time and left clean
Verified 7/18/18 Timothy S (Cannon Beach, OR)

We were grateful for flexibility in appointment times and quick responses to questions. Our garage design turned out to suite our needs perfectly! We are grateful!
Verified 7/10/18 jennifer

We love our new garage floor! It's like having a new room in our home. Jim and his crew were professional and the end result is fantastic. I would recommend this company to anyone.
Verified 4/3/18 Donna

This is our second garage re-do with Premiere Garage. We have had 2 great experiences. Jim Friesen is wonderful to work with. We are SO happy with our newly refinished garage floor.
Verified 1/30/18 Kate

This is our second garage re-do with Premiere Garage. We have had 2 great experiences. Jim Friesen is wonderful to work with. We are SO happy with our newly refinished garage floor.
Verified 1/30/18 Kate

From start to finished everything was on time and as promised. Very Professional from top to bottom!
Verified 1/28/18 Michael S. (Silverton, OR)

Highly recommended quality installation , neat & clean workers ,& equipment.
Verified 1/25/18 David

Jim and his team are superb to work with from design and planning to installation. They did both garage cabinets and new pantry. Excellent suggestions for best use of storage. Both turned out excellent. We could not be happier. We highly recommend them.
Verified 11/28/17 Kristi (Monmouth, Oregon)

Jim and his team are outstanding. They did a wonderful job on both my cabinets and flooring. Awesome. Jerry
Verified 11/23/17 Jerry (Coburg, OR)

I'm pretty sure there aren't any adjectives that can express how pleased I am with my garage floor! Thanks so much!
Verified 11/6/17 Steve (Eugene, OR)

It was a great experience from beginning to end. Great communication and everyone was very professional yet personal. When I needed to make a change after install it happened quickly. I recommend them highly! You get what you pay forgreat people and a great product.
Verified 11/5/17 Lori

Our garage floor looks amazing! A plus service and work throughout the process!
Verified 11/2/17 Gary & Gloria

What a fantastic, easy process. The whole team were amazing! A totally professional, easy process. I couldn't be happier!
Verified 11/1/17 Steve

We were very pleased with all our contacts' professionalism. The product is beautiful and exactly as promised. The installers worked really hard and were determined to make us happy. I work in property management and have dealt with many vendors. Your team is top notch!
Verified 10/27/17 Julie (Portland, )

Totally satisfied with both floor andd cabinets. Would highly recommend your company to all my friends, which rarely do.
Verified 10/24/17 Rodney

Both staff and product was great.
Verified 9/28/17 Steve

From start to finish, Jim and his crew have been exceptionally considerate and easy to work with. We have a new floor in our garage and a wall of really great cabinets. It all looks great and we are very satisfied with it all. The floor crew and the cabinet crew guys were all very considerate and did a professional job. The garage gets rave reviews from anyone who sees it! It feels and smells so clean and brightens the whole space! We highly recommend them!
Verified 9/26/17 John (Salem, OR)

Very happy with finished installation and overall look. Sales rep. had to be creative to make the design work.
Verified 9/21/17 Bruce

Excellent preparation and application of floor costing, the young fellow that was assigned to our floor coating job was very informative and certtious
Verified 9/2/17 Gail

We are super happy with our garage floor and felt the service was high quality and good value!
Verified 8/23/17 Tim

Great sales contact, great installers...delay in some of the materials but we were kept informed. Everything is now installed and it looks fabulous. Thx very much!
Verified 8/4/17 Martin (Tigard, OR)

They did a great job on closet and garage cabinets and I would definitely go to them again. Everything was better than expected.
Verified 7/19/17 Debbie L (SALEM, OR)

I am a builder and have worked with a few different garage improvement companies. These guys are definitely the best.
Verified 6/20/17 Phillip (Lake Oswego, OR)

Excellent presentation of the bid along with quality installation. The professionalism of Premier Garage stood out among the competition.
Verified 6/19/17 Steve (Camas, WA)

Very happy with product and company. A+++ Thanks!
Verified 4/13/17 Donna (Salem, OR)

I like the product and result.
Verified 4/13/17 Greg (Vancouver, WA)

We are so happy w/the result! The finish is a bit uneven as you know and I thank you for you promise to make our floor right if/when needed.
Verified 1/31/17 Derrell (Eugene, OR)

We could honestly refer a friend with no worries. Everyone was professional, competent, and communication was excellent. I liked the precision of the process, from the first contact through final installation. Very professional!
Verified 12/23/16 Steve & Laverna

It all went so well from beginning to end. Great job by hard workers and it is Beautiful.
Verified 11/20/16 Joyce & Walter

Just an excellent job and result. the floors are beautiful!
Verified 11/10/16 Laorie Ann

Very pleased with all the services. Job well done.
Verified 11/9/16 Cindy

I just wanted to drop you a line to let you know that even with the torrential rain we've been having, the floor coating you installed has cured our water ingress issues 100%. Not only that, it still cleans up like brand new! Thanks again for all your help. I make sure to refer everyone who asks about the floor to you.
Verified 11/1/16 Andrew

Did a great job - floor looks great - they put customer satisfaction as highest priority.
Verified 10/12/16 Chris

Very pleased with the workmen and work
Verified 9/25/16 Fran

Happy to refer your business. Just ordered two more cabinets from you.
Verified 9/14/16 Glenn

Very happy with floor covering working product. Small room felt rough after 3 days. Fixed immediately by Rafael. Very responsive!
Verified 9/6/16 Bill

Very professional installers knowledgeable and answered all questions. Thank You!!!
Verified 8/30/16 Ken

Very pleased with both installs. Thanks.
Verified 8/8/16 Willy

Very good product and knowledgeable installers and sales.
Verified 7/18/16 James

Pleased with work. Excellent process.
Verified 7/1/16 Branda

Did a great job. Installers were professional, respectful, friendly, courteous.
Verified 6/25/16 Dennis

We had a great experience with all staff members!
Verified 6/14/16 Gina

Great experience from beginning to end. Amy responded to my first email quickly. Very professional! Installers did an awesome job too!
Verified 6/9/16 Don

Love the finished product! The workers were always polite and dedicated to doing a great job. I need business cards so I can give to friends and thanks for the starbucks card!! :)
Verified 6/6/16 Marlyn

Excellent product. Sales and install crew were professional and followed through with everything they said they would do/provide.
Verified 6/2/16 Ed & Brenda

Thank You!
Verified 5/16/16 Mark C.

Very Satisfied! Your entire process from sales (Amy), communication, punctuality and attention to detail was the best we've ever had. A special shout out to the flooring - father/son team & to Craig & Manuel for their excellent work.
Verified 5/10/16 Dave & Candy

Product is the best and holds up over time! You took the time to make the install correct for us! Your guys are upbeat and fun to watch. OK, so I have Fun!!!
Verified 4/8/16

Thank you! We are very happy with the work you did.
Verified 3/28/16 Jennifer

Everything first rate!
Verified 3/8/16 Richard

Did a great job for a fair price. Glad you could make the schedule work.
Verified 1/23/16 Richard

Installers were great to work with and well mannered.
Verified 1/22/16

Great Jobs! Very happy.
Verified 1/16/16

Cons: Installer late, nice guys though, a lot of knicks, handle for drawer left at WH. Pros: guy who came 2nd time was great! He fixed all the problems so it looked new! He made a trip to get our handle and stayed until we were happy.
Verified 1/15/16 Terry & Vickie

We were very pleased with the quality of the work and engagement of the owner of the company. Installers were top rate.
Verified 1/14/16 Jorge

I have before/after pictures of the garage. The change is remarkable. My storage is tripled. Thanks!
Verified 12/23/15 Sandra

Overall we're very happy - drawer boxes are still very hard to pull out on 1/2 the drawers but not that big of a deal. I would only have good things to say about this business. Thank you!
Verified 12/11/15

We love our new garage Jim and his crew were so great to work with. It's a dream come true. :)
Verified 12/7/15 Deb & Joe

We love the floor! It looks great, we didn't even want to park on it. :)
Verified 11/16/15 Todd & Nicole

Great service, employees, communication, and product. We would recommend you to anyone!
Verified 11/4/15 Mark & Kirstin

Fully pleased with the results. Craig, Francisco, & Pete were professional & had full knowledge of flooring.
Verified 10/27/15 Ron

Good Product
Verified 10/23/15 Devin

Love the floor
Verified 10/22/15 Robin

We're proud of it.
Verified 10/19/15 Frank

Very pleased. I have already recommended you.
Verified 10/2/15 John

Delivered product as contracted.
Verified 9/25/15 Jane Mac (Portland, OR)

We are very pleased with our garage floor. It is beautiful and durable.
Verified 9/15/15 Jim

The job was done just like I was told it would be accomplished. Installers were on time and cleared up when they left for the day.
Verified 9/2/15 Ed

Beautiful results and best part was a great crew who were meticulous and terrific to work with.
Verified 8/10/15 Nancy

Happy with final product
Verified 8/7/15 Curtis

Excellent, Professional work - Beautiful! We are very happy with our garage floor.
Verified 8/4/15 John

Job well done
Verified 7/20/15 Tom

Great Job! Would recommend because of honesty of Francisco! Did not need sealant as initially thought clean!
Verified 7/13/15 Jeanine

Our garage looks better. I hope the water through is now stopped. Good Job.
Verified 7/6/15 Ron

Extremely pleased with end result. Liked your installation team.
Verified 6/29/15 Aaron & Joan

We were pleased with the work.
Verified 6/15/15 Allen

Most knowledgeable and helpful presale. We love our floor!
Verified 6/12/15 Scott & Kristin (Florence, OR)

Local sales rep was on vacation so I worked with Jim. Very happy with the end result. Garage floor looks great. All interactions with Premier Garage were very professional. Pleasure to work with. Thank you! Appreciate the Starbucks card.
Verified 6/4/15 Jill

Pleased with the floor
Verified 5/2/15 A Premier Garage

Satisfied
Verified 4/30/15 Bijal

Excellent customer service - even if it was our men up on the stainless top - Thank you!
Verified 4/29/15 Carolyn (Salem, OR)

Great Job - Amy & Crew Exceptional
Verified 4/27/15 Stan

They did a great job from start to finish.
Verified 4/23/15 Tanya

Great Job!
Verified 4/21/15

Fantastic job! Thanks!
Verified 4/14/15 Margaret

Great product & service
Verified 4/10/15 John

Love the floor and the cabinets. Thank you! P.S. I've already referred you to others.
Verified 3/14/15 Sandy

We love our floor! We have essentially added 700 sq ft to our house without a single nail!
Verified 2/24/15 Lee

Love my new floor. Thanks for the coffee card!
Verified 1/27/15 W.

Very professional! Great job!
Verified 1/23/15 Jeff & Samantha (Salem, OR)

Excellent
Verified 12/24/14 Tim

Fantastic from start to finish. quick and easy estimate on my schedule. Have already recommended to others!
Verified 12/23/14 Daphne (Seattle, WA)

My crew was terrific. Awesome Professionals.
Verified 12/19/14 Cindy (Auburn, WA)

Jim was very organized and positive. Thanks so much for coming back out to make it perfect.
Verified 12/17/14 Don (Salem, OR)

High quality. If Jon recommends, they must be top notch. Did not disappoint!
Verified 12/15/14 Dennis (Portland, OR)

You were very patient and helped with moisture problems
Verified 10/28/14

Premier has a good record with the CCB. The garage looks much better now.
Verified 10/11/14 Richard (Beaverton, OR)

Good website. Love my garage!
Verified 9/22/14 John (North Bend, WA)

Thank You!
Verified 9/18/14 Linda & Michael (Salem, OR)

Beautiful job, hardworking installers, they should be rewarded.
Verified 9/17/14 (Woodinville, WA)

Great job! Really like the results!
Verified 8/14/14 Todd (Salem, OR)

Very happy with new garage flooring
Verified 8/12/14 Gail (Kent, WA)

I felt confident with Amy Livesay as our rep. We are very happy with our garage floor.
Verified 7/23/14 Bette (Oregon City, OR)

Did a very good job.
Verified 7/18/14 George S. (Fall City, WA)

Excellent work
Verified 6/23/14 Chris

Chose you because of your capability of handling a large project. Looks Great!
Verified 6/13/14 Johnson (Sandy, OR)

A totally great experience
Verified 6/11/14 Barry (McMinnville, OR)

Nice looking product - flexible in schedule. Our clients were very pleased.
Verified 5/14/14 G. Christianson (Corvallis, OR)

Very professional in all ways!! Good Job everyone!
Verified 5/6/14 Dick & Nancy Van (Lynnwood, WA)

Flooring crew was great. Very knowledgeable.
Verified 4/21/14 Michael (Beaverton, OR)

Very happy with the quality of everything.
Verified 2/24/14 William (King City, OR)

Loved Amy & the installers were great!
Verified 2/18/14 Ken (West Linn, OR)

Thank you, Jim! Came to you because of your excellent reputation.
Verified 2/12/14 Tom & Marky (Keizer, OR)

Two time previous customer
Verified 2/11/14 Scot (Portland, OR)

Quality Products
Verified 2/6/14 William (King City, OR)

Appreciate that everyone was on time, never late, and floor crew was exceptional!
Verified 1/28/14 Espi (Seattle, WA)

Good experience. Quality. Good reputation.
Verified 1/14/14 Patrick (Salem, )

We love this product! Professional, on time, good communication, superior service! Will definitely refer!
Verified 1/9/14 Jan (Keizer, OR)

Very pleased!
Verified 12/28/13 Darrell (Keizer, OR)

We are very pleased! Thank You!
Verified 12/26/13 Chieko & Steve (Corvallis, OR)

Our neighbor had a floor done and it looked good for years. Decided to choose you because of that.
Verified 11/18/13 (Sherwood, OR)

Outstanding work and service. Have already recommended. Will use for cabinets in the future.
Verified 11/2/13 Rob & Ingrid (Vancouver, WA)

Chose you because of our discussion at Home Show & your reputation. I love my new garage floor & cabinets & the level of customer service was outstanding!
Verified 10/28/13 Joe

Thank You!
Verified 10/16/13 Stephen (Seattle, WA)

Clean neat lines on our garage floor.
Verified 9/17/13 Christi (Salem, OR)

I love it!
Verified 8/21/13 Bob (Portland, )

Great job! Thanks - awesome work. Many are impressed.
Verified 7/23/13 Bob & Kris (Salem, OR)

Craig Stewart - excellent follow up and attention to my needs. Only slight disappointment is followup after the sale - I felt at times as if I was the one with burden to get it completed.
Verified 7/16/13 Bobby (Issaqua, WA)

We're very pleased with how our garage floor looks. Pricing was fair. Thanks for the Starbucks card! :)
Verified 7/9/13 Ron & Barb (Keizer, OR)

Very nice job. Love product
Verified 7/1/13 Mike (Issaquah, WA)

Craig Stewart did a great job of exchanging information and staying in touch until we were ready to go forward.
Verified 6/17/13 Jim & Lois (Issaquah, WA)

Riley was just great. Always punctual and good at listening to my needs.
Verified 6/1/13 Same (Portland, OR)

Used your services before on our Idaho home. Now have had a 2nd floor installed here.
Verified 5/29/13 Ralph W. (Portland, OR)

Nice guys. Chose you because of your reputation.
Verified 5/1/13 Gary (Beaverton, OR)

You've done work for us before. Excellent service. Great quality. We'd use you again and refer you when opportunity arises.
Verified 4/10/13 A

Very nice job! Thank you!
Verified 4/4/13 Stuart & Chris (North Plains, OR)

Very professional--great work done! Many thanks! Will definitely refer you!! Thanks for the coffee card.
Verified 3/3/13 Don (Salem, OR)

Craig was great!
Verified 1/31/13 John (Seattle, WA)

Quality, professionalism. Exceeded expectations. Fabulous Job!
Verified 1/28/13 John (Sammamish, WA)

Met Craig Stewart, liked his presentation & trusted him. Work done well; damage to roof was a disappointment but it was repaired and paid for so it is all OK.
Verified 12/27/12 Nathan (Bellevue, WA)

Great job!
Verified 12/20/12 J. (Renton?, WA)

Quality Product; better materials than their competitors; Good Service; although delivery dates shifted
Verified 12/10/12 Steve (Bellevue, WA)

Great to work with
Verified 2/8/12 Chris (Sandpoint, ID)

Are you a customer of PremierGarage and Tailored Living of the Northwest?
Write Your Own Review