92%

of recent customers
recommend this business
Explore USA RV of Houston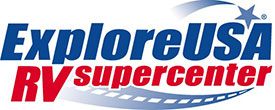 23538 West State Hwy. 6
Alvin, TX 77511
Phone: 281-968-6100

Houston, TX
Explore USA RV Supercenter offers a premier RV experience as a one-stop shop for all your RV needs. If you're considering purchasing a new RV, our inventory includes a wide selection of new and used models, as well as frequent specials offering discounted prices.

Our service center, staffed with highly experienced technicians, provides full service assistance for RVs and other towables, and can conduct any necessary maintenance or repairs.

We serve our customers with an honest approach to sales and timely service & support. Our goal is for you to enjoy your travel and build family memories that will last a lifetime!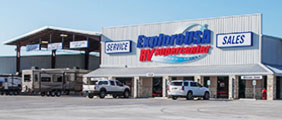 Business Profile of Explore USA RV of Houston - Alvin, TX
Office Type:
Service & Sales
Hours:
• Mon-Sat 9AM-6PM
• Sunday 11AM-4PM
Owner:
Scott Chaney
History:
17 Years in Business
Inventory:
• RVs
• Travel trailers
• Fifth wheels
• Toy haulers
Languages:
• English
• Spanish
Manufacturers:
• Heartland
• Palomino
• CrossRoads RV
• Dutchmen RV
• Redwood RV
• VanLeigh RV
Serving Areas:
• Houston
• Sugar Land
• Pasadena
• The Woodlands
• League City
• Baytown
Customer Reviews
Had been doing some comparative shopping for a new Travel Trailer. Sales Manager helped us find our a match to meet our needs.
Verified 12/4/18 Laura (Pearland, TX)

I rated Exploreusa low in a previous review, because we were denied a refund on an extended warranty. Regional manager Dan Tauer called me to find out why we were dissatisfied and looked into the matter. Dan made sure that we got our refund and explained that it was an unintended mistake. Thanks for doin the right thing.
Verified 9/16/18 Sue A. (Sargent, TX)

We loved the no pressure approach. Grant emailed me the next day with a trailer that was exactly what we told him we were looking for because the ones we asked to look at weren't quite right. Ashley and Craig in service were amazing and took care of us immediately! This is our second purchase on 8 years with Explore USA. Great both times.
Verified 7/5/18 Sophia (Santa Fe, TX)

Bought an RV to stay in while our house was being rebuilt after the Harvey Flood. Salespeople were very helpful and patient. Stayed in RV for about six months then brought it back so they could fix a few bugs. Repairs are being made as I write this. NO CHARGE. Very pleased with Explore USA in Alvin. Highly recommend.
Verified 6/11/18 Joseph (Angleton, Texas)

100% Satisfied! We visited the store 5-6 times before we bought our RV. The sales girl was always incredibly respectful of our long decision-making process and didn't give us any pressure. We met the owner one time we visited and every time we go back he calls us by our first names. A rating of 5 does not cover how satisfied we are with our service. 10+ for every category is needed!
Verified 12/3/16 Arthur (Houston, TX)

I traveled to visit several different RV dealerships, but the staff at Explore USA were very knowledgeable and kind that I went with them and I am glad I did!
Verified 5/30/16 Leia (Houston, TX)

Loved the salesperson - very down to earth and personable.
Verified 1/22/16 Gary (Houston, TX)

Explore USA has a big selection of RVs. Also they have a lot of good sales with very knowledgeable staff.
Verified 1/3/16 Laura (Alvin, TX)

Outstanding knowledge of product. Friendly staff. Very helpful.
Verified 11/13/15 James (League City, TX)

Our business with Explore USA RV through the years has been positive, friendly, knowledgeable, with great service.
Verified 7/11/15 Hugh (Pasadena, TX)

Renee is outstanding to work with, answers questions on an ongoing basis, and makes great suggestions. We have been extremely pleased with our experiences with her and have already referred her to others!
Verified 4/28/15 John (Sugarland, TX)

Very professional staff. I was very pleased with all the info given to me and how the employees were willing to go out of their way to make sure I got everything answered and/or anything I needed.
Verified 2/1/15 Eric (Houston, TX)

Loved the large selection and variety of stock to choose from! Jeff was very personable and knowledgeable. Enjoyed our experience with Jeff and the other staff.
Verified 10/14/14 Alicia (Galveston, TX)

We love our RV. Great product and the customer service was excellent. They answered all my questions and helped every step of the way.
Verified 3/24/14 Martin (Beaumont, TX)

Are you a customer of Explore USA RV of Houston?
Write Your Own Review